Here you will find information about my teaching method, programs, and other helpful information.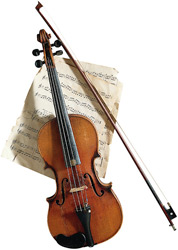 Tatiana's Violin Studio offers Private, Semi – Private Violin and Viola lessons for children ages 5 to 18 and String Ensemble (Violin/Viola/Cello) for advanced students with a performance after each session. At the end of the school year students will be performing at the Recital with our Studio's highly qualified piano accompanist. In order for every student to achieve his or her full potential, they must learn the basics. In addition to scales, studies, songs and theory, every lesson must be a fun-filled experience for all. I do not teach the Suzuki Method however I incorporate the Suzuki books among others into the lessons.
Having been thoroughly educated in Russia and together with 30 years of experience in the United States gives me a good opportunity to discover and nourish the talent in every student I teach. I proud to say that several of my students are attending Berkeley, UCSD, UCLA, UCI, CSUN, CSLB and other prestigious colleges in California.
Ms. Tatiana began her music education at the age of seven at the music school in her hometown of Sochi, Russia. There she learned the violin, music theory, music history and harmony. After that she continued her education at the Music College and then at Music Conservatory-Tbilisi, Georgia where she obtained her Master's Degree and earned qualifications: concert performer, an orchestra soloist and music teacher.